Our English Curriculum - Phonics and the Power of Reading
OUR READING MISSION STATEMENT
We aim to provide children with the necessary skills to communicate creatively and imaginatively, therefore enabling them to succeed in the wider world. We recognise the importance of a systematic approach to the teaching of reading and writing throughout the school, including a progressive and engaging high-quality Phonics and Spelling programme. We follow Little Wandle Letters and Sounds Revised in EYFS and Key Stage 1 to teach phonics and reading skills.
Across the school we have Reading Buddies. These reading buddies are members of the local community who volunteer weekly to read with children. Each class has at least one reading buddy. We really appreciate the time and support these adults give to the school.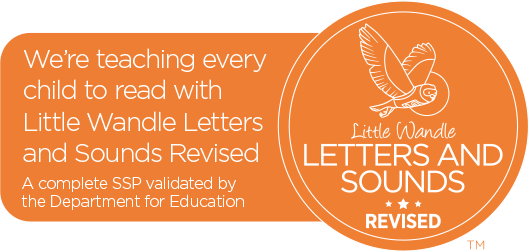 We use two main reading schemes within the school these being Collins Big Cat books and Little Wandle Phonics Reading books - which are decodable for children. Children are also encouraged to take a book to 'read for pleasure' with a family member.
In Key Stage 2, if needed, children access Collins Big Cat, Oxford University Press Project X books and Rigby Navigator books.
Please take a look at this Phonics video from Little Wandle:
https://www.littlewandlelettersandsounds.org.uk/resources/for-parents/
This details how our Phonics scheme is taught and how it can be supported at home.
Pupil Voice 2023 on Little Wandle
"I enjoy speedy sounds"
"My Daddy thinks I am a super star reader and I read all of the book"
"I know I am making progress because I am reading longer books"
"I enjoy learning new sounds"
"I like making mistakes, it is part of learning"
The Power Of Reading
All pupils must be encouraged to read widely across both fiction and non-fiction to develop their knowledge of themselves and the world in which they live, to establish an appreciation and love of reading, and to gain knowledge across the curriculum. Reading also feeds pupils' imagination and opens up a treasure-house of wonder and joy for curious young minds.
National Curriculum 2014
The Power of Reading is a school development project which engages teachers and children in the literacy curriculum through using high quality books and proven teaching approaches, raising engagement and attainment for all pupils.
The project offers multi-layered professional development drawing on Centre for Literacy in Primary Education's (CLPE's) highly regarded classroom-based research and experience of working with teachers. At DSJ, we are excited to continue our journey with the Power Of Reading as it combines the use of outstanding books with an approach to teaching the English curriculum that is creative, engaging and develops a love of literacy. Each child will have access to a copy of the text where they can read along and listen to modelled reading by the teacher, while presenting many chances for paired, choral and reading aloud, which will improve both their literacy and oracy.
Now in its 16th year, the Power of Reading has raised achievement in over 4200 schools and worked with 5500 teachers nationally, with 98% of teachers reporting that the programme improved children's engagement in reading and 97% reporting an improvement in children's writing. The Power of Reading meets all requirements of the national curriculum.
The 'Power Of Reading' really does encourage the love of books and book talk - to be able to talk about a book, front cover, pictures and illustrations before you even read the words! The methodology encourages role play, drama and character development and presents great cross-curricular opportunities.
For more information please feel free to access the site click on the link below. https://www.clpe.org.uk/powerofreading